About MGM School of Physiotherapy , Navi Mumbai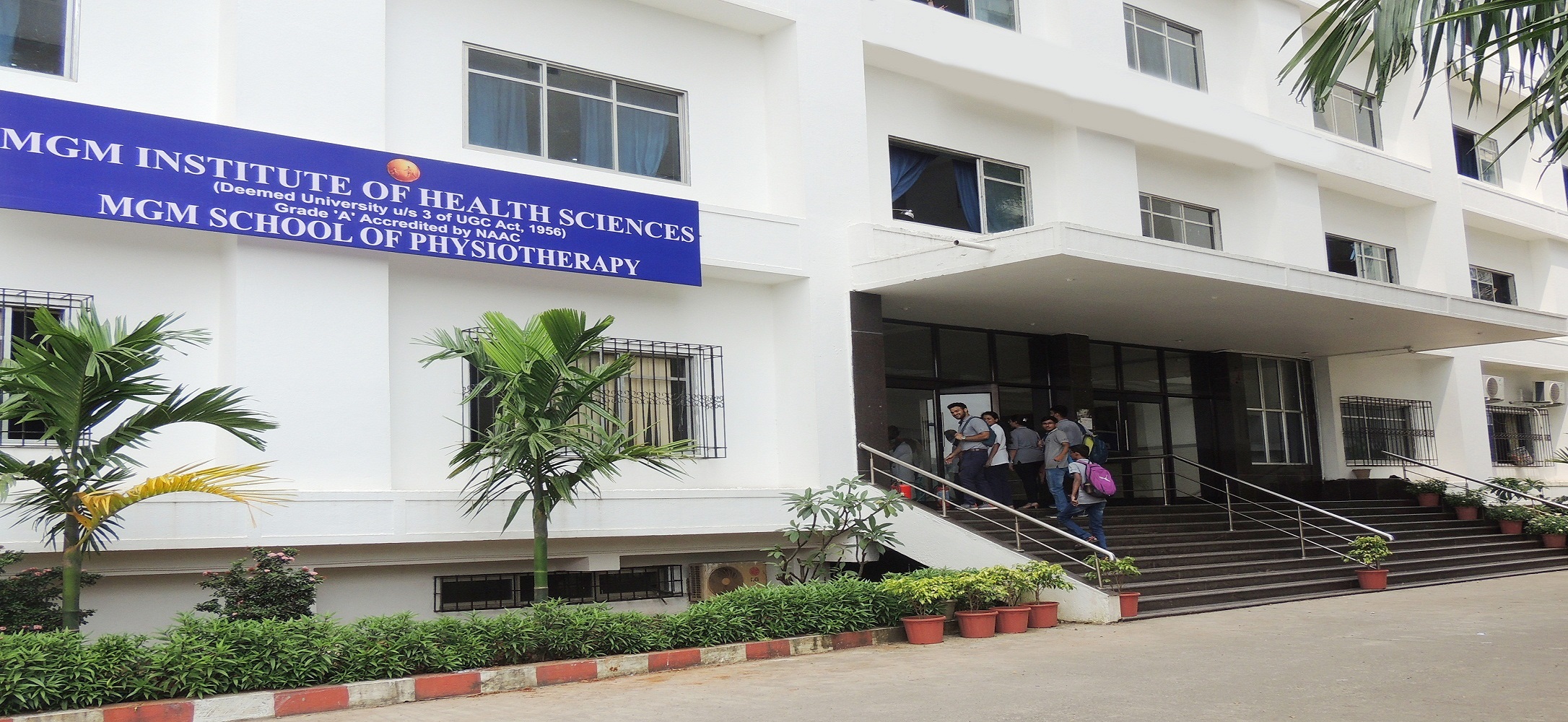 MGM School of Physiotherapy was established as a constituent unit of Mahatma Gandhi Mission Institute of Health Sciences in 2008, when the first batch of students was admitted for BPT and MPT courses. The institution is equipped with infrastructure necessary for Physiotherapy education.
It is a growing institution which pledges to train globally competent Physiotherapists who can deliver state of the art services to patient care. Research is the thread running across graduate and post graduate courses up to PhD level.
The courses are designed to impart Physiotherapy knowledge along with skills underpinned by relevant biomedical and behavioral sciences. Problem based learning approach and innovative education strategies are used to facilitate integration of clinical and basic sciences.
Testimonials
We were blessed with best Professors who indeed motivated, encouraged and supported us throughout the phase. I have learned many things like professional etiquettes, communication skills especially with patients and most importantly good knowledge and hands on skill that a Physiotherapist requires.

"
Simran Mansharmani
— Intern
When I look at my peers from other institutes/colleges, I realise that how lucky I am that I got an exposure to different streams during my postings which gave me a head start and confidence over others. I realise now that I am in such an honourable profession and the worth of the white coat all thanks to MGM

"
Through my 4.5 years of undergraduate in physiotherapy at MGM institute of health sciences I had countless opportunities to develop my analytical skill, leadership quality and proactive thinking through various events. This college also helped me improve my decision making skills and also to discipline myself.

"
I feel very proud to be a part of MGM School of Physiotherapy. Apart from the academic coaching which is of the highest standard in the region, I also had opportunity to participate in curricular and extra- curricular activities. Great knowledge provided in the field of research which help to plan evidence based treatment protocol for the patients.

"
My heartfelt thanks to our college principal and staff for the academic ambience fostered at MGM School of Physiotherapy. The clinical and academic training offered by day one of our course and the constant encouragement by faculty members make possible for me to develop my career as Neuro physiotherapist.

"
I would like to thank MGM School of Physiotherapy and the faculty for all the efforts put in by them, the perseverance and right moves have paid off finally. All my batch mates are doing well in their respective jobs which reflect the quality of the students the institute has produced. Today I am working as assistant professor in reputed institution.

"
Dr. Ruturaj Shete (PT)
— Assistant Professor
The years spent in MGM School of Physiotherapy campus were the most formative and beneficial years of my life. Apart from academic development I was helped to identify my area of interest and today I am working as assistant professor in a reputed Institution.

"
Dr. Mamta Shetty (PT)
— Assistant Professor
I am extremely happy to say that my daughter is studying in MGM School of Physiotherapy. The facilities provided by the college and the environment around the students in college are quite enough for students to design their careers as doctors. MGM has well equipped physiotherapy OPD and hospital with various specialities which makes sure students get ample of patient exposure which will help them to become good doctors in future. I am completely satisfied with MGM School of Physiotherapy work and performance towards students.

"
Mr. Hariram Bhanushali
— Parent
I am proud that my daughter is being educated and mentored atMGM School of Physiotherapy. The quality of the teachers and the knowledge provided are extremely high. Most importantly, the learning experience has been tailored to ensure that each student understands the concept and knows that every student is given broad opportunity to enjoy learning. I sincerely appreciate the contribution that MGM School of Physiotherapyis taking in creating quality doctors.

"
Mr. Visanji Savla
— Parent
Treatment sessions are up-to the mark. I am happy with the services provide to me at MGM Physiotherapy OPD. Excellent work. Keep it up

"
Mrs. Vijaya Deshpande
— Patient
I am very happy with the treatment provided. Quick attention and rehabilitation has helped me in speedy recovery. The cost at which such quality treatment is provided to all the patients is appreciable.

"
Mrs. Sunita Patil
— Patient