Clinical Services at World Spine Care Clinic
Origin & Background
World Spine Care is a global charity on a mission to improve lives in underserved communities founded in 2008 by Scott Haldeman MD,PhD,DC, a leading figure in assessment and treatment of spinal conditions.
The global burden of low back pain reported by WHO in The Global Burden of Disease (GBD) 2010 estimated that low back pain is amongst the top ten DALYs (disability-adjusted life years) causing diseases and injuries. It is a leading cause of activity limitation and work absenteeism in most parts of the world causing economic burden at individual, family, community, industry and government level. (WHO Bulletin)
Despite the large magnitude of problem of spine pain among both high and low income people and its huge negative impact on health-related quality of life, the health care policies fail to address this global burden satisfactorily. Hence to handle this increasing global burden, a sustainable, evidence based and integrated spine care model was established in MGM Kamothe hospital by signing a memorandum between WSC and MGM in 2016.
MGMWSC clinic, as a collaborative, integrated Global organization, emphasizes on quality care to the patient which is sustainable and evidence based. The location of the MGM Kamothe Hospital helps people from nearby areas of Pen, Raigad and Alibaug to avail the quality spine care services at an affordable cost. Thus the clinic is able to cater to a large population in need of spine care. Being a teaching institute, it recognizes the importance of maintaining effective data and documentation of the patient records. It emphasizes consistency of record keeping as this will ensure delivery of high quality care to the patients. The MGM WSC clinic aims to become the Primary Health Practitioner/Spine Care Provider for the patients.. Data recorded from spine care delivered will allow reflection to identify challenges and barriers and design improved models for delivery of effective spine care with an ultimate aim of empowering patients to manage their spine pain.
---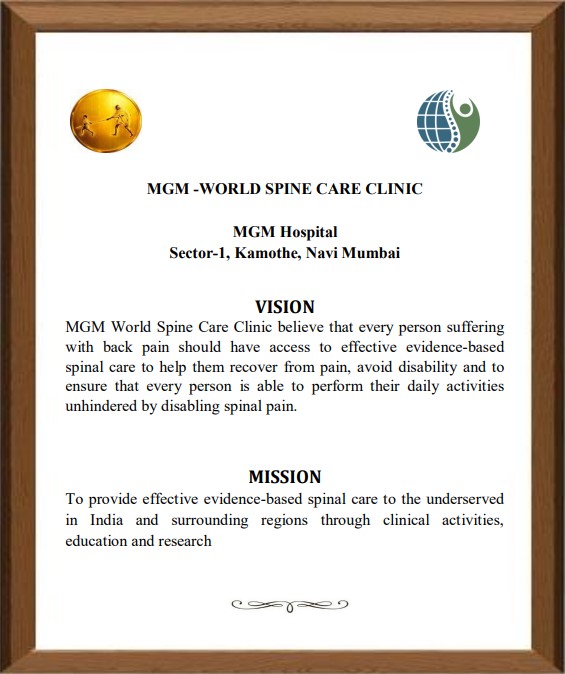 ---
Clinical Training
The MGM/WSC Spine Clinic is housed within the outpatient physiotherapy department of the hospital. It is managed by the clinical supervisor who oversees and mentors postgraduate physiotherapy students who are working towards their Masters Degree in the differentiation, diagnosis and evidence based treatment of spinal conditions. Undergraduate physiotherapy students are also trained in the clinic as part of their final year clinical rotations. This helps prepare the future physiotherapists of India to be able to take evidence based spinal care into the communities they will serve during their professional careers.
---
Success Stories-
37year's old female, housewife by occupation reported with chief complaint of pain in cervical region since 10days after prolonged hours of household chores. Assessment findings revealed forward head posture along with protracted shoulder. Numerical pain score was 5/10 on activity and 0/10 at rest. She was diagnosed with right upper trapezius myofascial pain syndrome. Treatment plan included sub-occipital release technique, bilateral arm pull and myofascial release technique and upper trapezius stretching. Patient reported to MGM WSC clinic for 4days after which she was able to perform her household chores.
Patient testimonial-
"I am very happy with the treatment provided. Quick attention and rehabilitation has helped me in speedy recovery. The cost at which such quality treatment is provided to all the patients is appreciable."
- Sunita Patil
Outreach activities-
The main objective of the camp was to screen for the impact of musculoskeletal disorder burden in the rural areas. It also aimed to understand the attitudes and beliefs of people suffering from musculoskeletal disorders.
MGM School of Physiotherapy conducted musculoskeletal screening survey in Dhamani village, Nere village, and Tara village. Interns and MPT students were accompanied by 2 faculty members for the survey. Each and every house was screened in the survey.
---
Scientific Paper Publications :
Mullerpatan R, Nahar S, Singh Y, Cote P, Nordin M. Burden of spine pain among rural and tribal populations in Raigad District of Maharashtra State of India. European Spine Journal. 2020 Sep 10:1-7
Mullerpatan R, Girdhar P, Singh Y, Salgotra KR, Wilkey A, Nordin M. Evidence-Based Rehabilitation of Spine-Pain Disorders among Underserved Individuals in Navi Mumbai, India: A Two-Year− Observational Report. Critical Reviews™ in Physical and Rehabilitation Medicine.
Johnson CD, Haldeman S, Nordin M, Chou R, Côté P, Hurwitz EL, Green BN, Kopansky-Giles D, Randhawa K, Cedraschi C, Ameis A. The Global Spine Care Initiative: methodology, contributors, and disclosures. European Spine Journal. 2018 Sep 1;27(6):786-95
Nordin M, Randhawa K, Torres P, Yu H, Haldeman S, Côté P, Torres C, Modic M, Mullerpatan R, Cedraschi C, Chou R. The Global Spine Care Initiative: a systematic review for the assessment of spine-related complaints in populations with limited resources and in low-and middle-income communities. European Spine Journal. 2018 Sep 1;27(6):816-27
Haldeman S, Johnson CD, Chou R, Nordin M, Côté P, Hurwitz EL, Green BN, Kopansky-Giles D, Cedraschi C, Aartun E, Acaroğlu E. The Global Spine Care Initiative: classification system for spine-related concerns. European Spine Journal. 2018 Sep 1;27(6):889-900
Haldeman S, Johnson CD, Chou R, Nordin M, Côté P, Hurwitz EL, Green BN, Cedraschi C, Acaroğlu E, Kopansky-Giles D, Ameis A. The Global Spine Care Initiative: care pathway for people with spine-related concerns. European Spine Journal. 2018 Sep 1;27(6):901-14
Kopansky-Giles D, Johnson CD, Haldeman S, Chou R, Côté P, Green BN, Nordin M, Acaroğlu E, Ameis A, Cedraschi C, Hurwitz EL. The Global Spine Care Initiative: resources to implement a spine care program. European Spine Journal. 2018 Sep 1;27(6):915-24
Johnson CD, Haldeman S, Chou R, Nordin M, Green BN, Côté P, Hurwitz EL, Kopansky-Giles D, Acaroğlu E, Cedraschi C, Ameis A. The Global Spine Care Initiative: model of care and implementation. European Spine Journal. 2018 Sep 1;27(6):925-45
---
M.G.M. Hospital
Plot No. 1 & 2, Sector-1, NH-4 Junction, Mumbai - Pune Hwy, Kamothe, Navi Mumbai, Maharashtra 410209
Contact: 022-27437866
---