MGM Center of Human Movement Sciences
About us
MGM Centre of Human Movement Science (MGMCHMS) was established by MGM School of Physiotherapy, Navi Mumbai in 2015 with support from International Society of Biomechanics, Pennsylvania, USA and Biomedical Engineering and Technology (incubation) Centre (BETiC)-IIT-Bombay to address an urgent need of integration of clinical biomechanics in Indian healthcare.
Clinical Biomechanics is a science of human movement in normal and pathological conditions, which is applied in healthcare for diagnosis, clinical decision making for planning, measurement and monitoring treatment outcome.
---
Vision
The aim is to generate a task force within the country to undertake research & develop the science of movement analysis in India by conducting integrated training for clinicians & health care professionals within India to develop movement science for health promotion; reduction of rising burden of non-communicable-diseases (NCDs) for e.g. diabetes, arthritis, Parkinson's, cerebral palsy, etc. and technology design for rehabilitation of movement disorders.
---
Mission
The mission is to provide people with comprehensive movement-analysis facilities following injury/disorder at an affordable cost for precise clinical-decision-making.
---
Infrastructure & Manpower
---
MGM CHMS is spread over 2116 sq feet area, equipped with robust state of art technology for comprehensive evaluation of human motion; including 12-camera-system(Vicon,UK) for kinematic; three force platforms(AMTI,USA) for kinetics; FitmateMed(COSMED,Italy) for metabolic cost and Surface-EMG System(Delsys, USA) to measure muscle activity during motion. A pressure platform (Novel, Emed, Germany)evaluates foot-geometry and plantar-pressure distribution and Step-Watch-Activity-Monitor(USA) records daily walking performance. A core team of 4 Physiotherapy faculty members, 2 research fellows and 2 master's students in Physiotherapy contribute to academic, clinical and research activities of MGMCHMS.
MGM CHMS is located on the first floor of MGM Super specialty Hospital in Vashi, Navi Mumbai. The lab is 92 ft long x 23 ft wide x 13 ft high.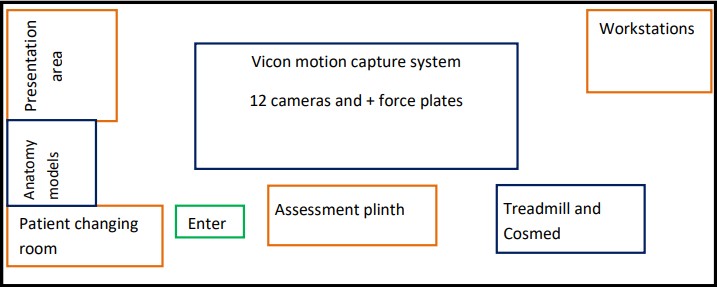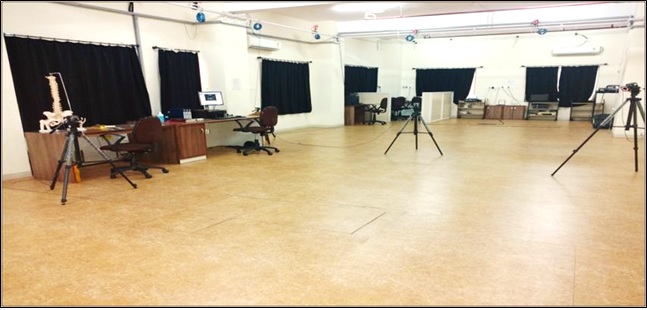 Layout of MGMCHMS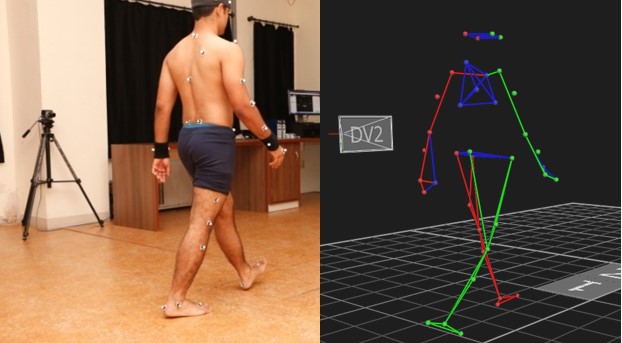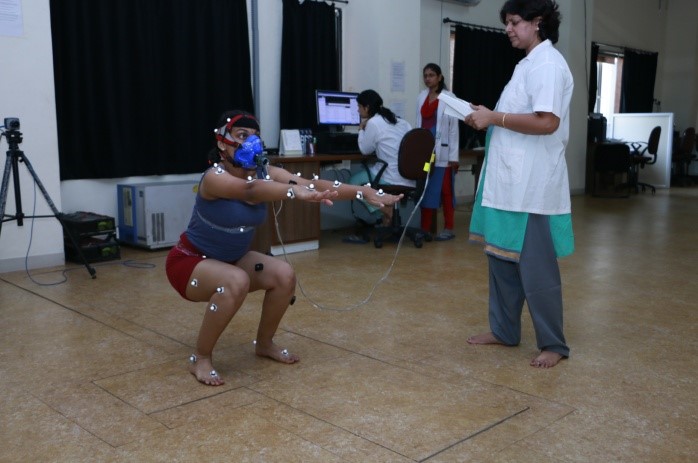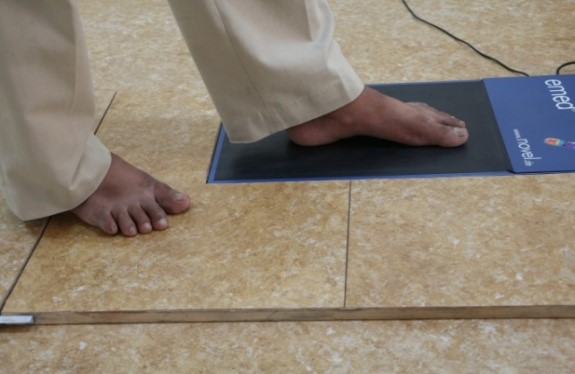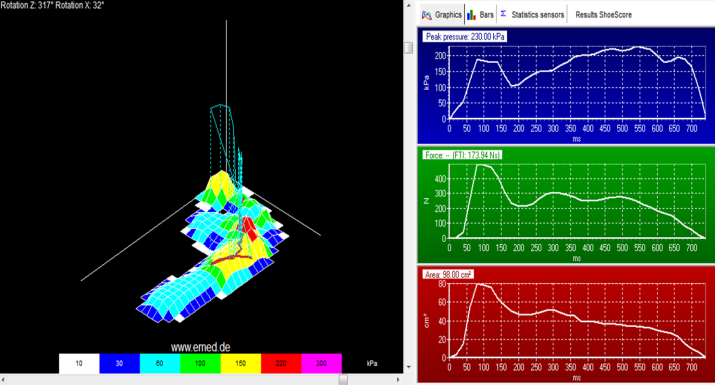 Facilities at MGM CHMS
---
Future plan:
To develop MGMCHMS as an international Centre of Excellence in Human Movement Science;
Recognition of MGMCHMS as a National & international Centre for Validation of Technology pertinent to motion;
Development of much-needed health care solutions for early detection and management of neuro-musculo-skeletal and cardio-pulmonary conditions for reduction of burden of NCDs.
---
Academic
The Centre has offered exclusive live-training in Human Movement Science/Kinesiology/Clinical Biomechanics-particularly-3DGait Testing as curricular activity to over 1000 students of MGMIHS, including BPT, MPT, P&O, M.S. (Ortho) programs.
Additionally, 9 Value Added Courses were offered; including 6 in 2D/3D Gait-Analysis and 3 in Clinical Biomechanics which benefitted health and engineering students and research scholars across India and guided tours to spread knowledge and awareness of biomechanics.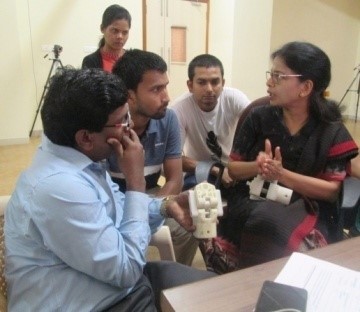 Student Training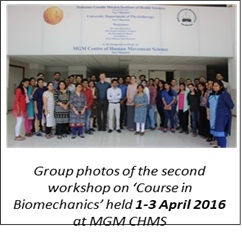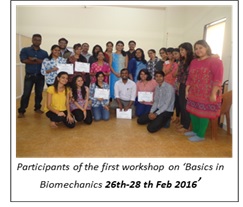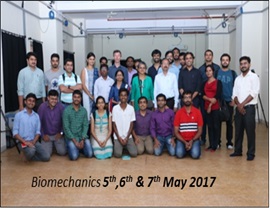 Clinical
MGMCHMS has offered exclusive gait/running/balance/foot geometry/dance movement/sport testing/squat analysis to a wide spectrum of over 500 patients following injury/disorders e.g. cerebral palsy/knee-OA/amputation/knee-arthroplasty/stroke/diabetic-foot/Parkinson's-disease/sports-injuries/dance- injuries for precise treatment planning and performance enhancement.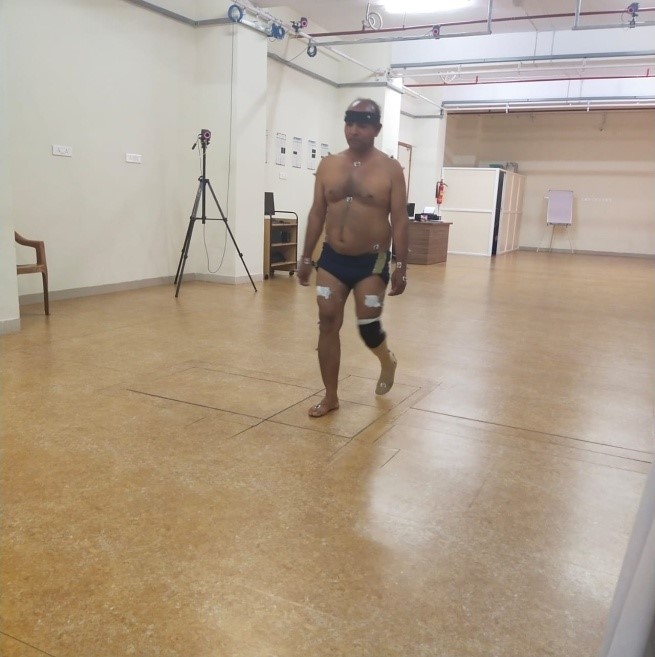 D Gait Analysis of patient with trans-tibial amputation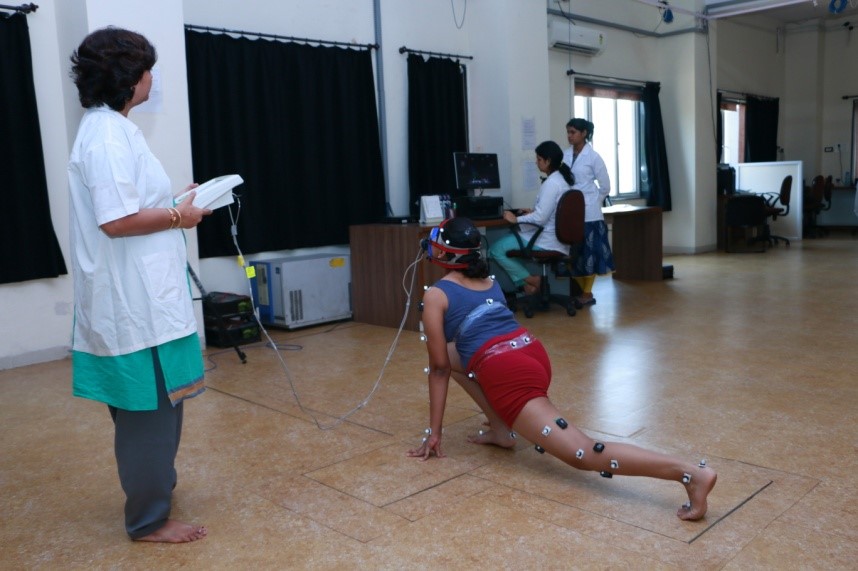 Comprehensive Movement Analysis of Suryanamaskar
Research
The thrust of inter-disciplinary collaborative research at MGMCHMS resonates with India's national health priority to reduce rising burden of NCDs by exploring simple, life-style modification solutions for health-promotion.
Projects designed for biomechanical exploration of Yogasanas-e.g. Suryanamaskar; ground-level-activity-e.g. squatting; classical dance-forms-e.g. Bharatnatyam and traditional sports-e.g. skipping are funded intra-murally. Research efforts continue to maximize function in cerebral palsy children, people with Osteoarthritis, early detection of risk to foot-injury in diabetic-neuropathy; design simple tool to reduce fatigue of spine muscles among Mathadi (labourers)-workers.
National interdisciplinary project with Mechanical Engineering Dept.-IIT Bombay to develop a powered trans-tibial-prosthesis for people with below-knee-amputation is funded by Department-of- Biotechnology.
International interdisciplinary project with Mechanical-Material Engineering Dept., Queens University, Canada was funded by NSERC, Canada and Shastri-Indo-Canadian Institute to evaluate birthing positions in non-pregnant women.
Additionally complementary research in healthcare conducted by PhD scholars and post-graduate students of Physiotherapy and Engineering has resulted in 13 scientific publications till date. Interdisciplinary collaborative research work has led to two patents titled-'A device for measurement of properties of a body part'(2015) & 'A Device for Screening of a Diabetic Foot'(2018) which are filed.
Invention Title
Name of Inventors
Patent No. / Copyright number
Date of Filing
A device for measurement of properties of a body part
MauryaAmit
MullerpatanRajani
Bhallamudi Ravi
GhyarRupesh
1431/MUM/2015
06/04/2015
A Device For Screening Of A Diabetic Foot
NishantKathpal
GhyarRupesh
ChetanPakhare
YashGupte
Bhallamudi Ravi
MullerpatanRajani
201821005692
05/02/2018
Copyright- MGM Ground Level Activity Questionnaire
RajaniMullerpatan
BelaAgarwal
Copyright-L-76907/2018
27/07/2018
Indigenous data and testing reports(6) are filed for copy-right and 1 tool is copyrighted(2018).
Validation of Technology
The Centre has validated 5 devices in motion-technology; out of which two were awarded for scientific innovation at national and international level respectively.
Testing of device to detect posture in cyclists (Cyclos)
The device was developed by Mr Kunj Dedhia, a X standard student from Dhirubhai Ambani International School, Mumbai. This innovation has won the Grand Prize at the Initiative for Research and Innovation in Science (IRIS) National Fair 2016 and has qualified to represent India at the Intel International Science and Engineering Fair 2017 to be held in Los Angeles, USA.
Kunj's feedback: Throughout the research and development phase of this device, MGMCHMS has helped me in the testing phases. Testing involved, finding a correlation between the sensor values and values generated through Kinovea. The input received from Dr. Rajani Mullerpatan has helped me make my device scientifically accurate and valid. I have finally produced a state of the art ergonomically designed device for cyclists to prevent low back pain."