Societal Role of MGMSOP
---
The main functions of MGM School of Physiotherapy, Kamothe Navi Mumbai are predominantly two-fold. One is as educational establishments and the second as generators of knowledge. As educational establishments, our function is to provide able, self-directed learners that are independent and confident, and will go out into society and give to society through leadership or through civic duties as clinical or Academic physiotherapists. As knowledge generators, MGM School of Physiotherapy, Kamothe Navi Mumbai has its dedicated MGM Centre of Human Movement Science Lab to promote research which provides recent and evidence based knowledge, to change paradigms, to aid society in its development and in meeting new challenges as they come along.
---
Attend to Non-Communicable Diseases' titled short film shot for a competition entry for World Health Organization 'Health for All' Film Festival 2022
Ms. Jalak Upadhyay, Physiotherapy Intern played vital role in community service during COVID-19 pandemic in marginalized sections of Mumbai
Tree Plantation
Plants eliminate the pollution and are beneficial for the health, too. This would let our coming generations lead a healthy life. At MGM School of Physiotherapy, Kamothe Navi Mumbai, the motive is not just to plant the saplings but raise them as well. Students are also instructed that we must plant trees, but we should ensure that we are able to look after them. The number of saplings planted is immaterial, what matters the most is to pay meticulous attention for their nurture, protection and growth.
---
Pulse Polio
Pulse Polio is an immunization campaign established by the Government of India to eliminate poliomyelitis (polio) by vaccinating all children under the age of five years against the polio virus. NSS Volunteers of MGM School of Physiotherapy, under the guidance of Community Medicine Department, MGM Medical College, volunteered in the Pulse Polio Drive, where they administered Oral Polio Vaccine in Sectors of Panvel, Navi Mumbai.
NSS Volunteer giving oral immunization drops to children during pulse polio immunization campaign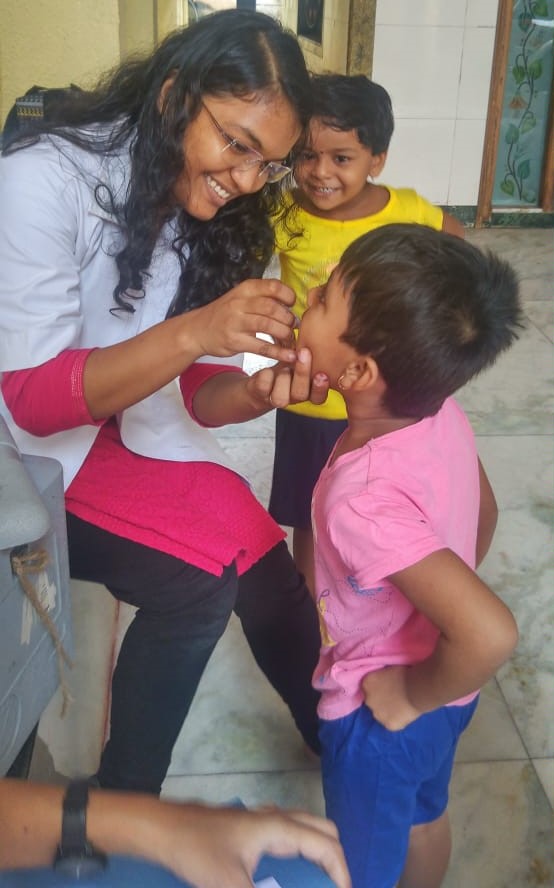 ---
Swachh Bharat Abhiyan
Hon'ble prime minister of India has given a call for Swachh Bharat as a mass movement to realize Mahatma Gandhi's dream of Clean India. As an activity for Swachh Bharat Abhiyan, MGM School of Physiotherapy, Kamothe Navi Mumbai organized a cleanliness camping "SWACHHTA ABHIYAN" on 15th September 2017. More than 200 students actively took participation in this drive. Essay competition was conducted on the topic "Different ways for spreading the message of Hygiene and cleanliness to the community". Students and Faculty were also motivated to devote their spare time for cleaning.
---
Legendary Birthdays celebrations
Legendary Birthdays Celebrations are carried out in MGM School of Physiotherapy, kamothe Navi Mumbai every year. Birthdays of our National Hero's in the vein of Sardar Vallabhbhai Patel on 31st October to celebrate "Rashtriya Ekta Divas", Motilal Nehru Jayanti on 14th November to celebrate "Children's Day" and Shivaji Maharaj Jayanti on 19th February is celebrated. Students are asked to prepare charts, Speech and Plays depicting on achievements and messages given by our National Hero's.
---