Cardiac Rehabilitation
---
Payal Murkudkar (PT) training patient for cardiac rehabilitation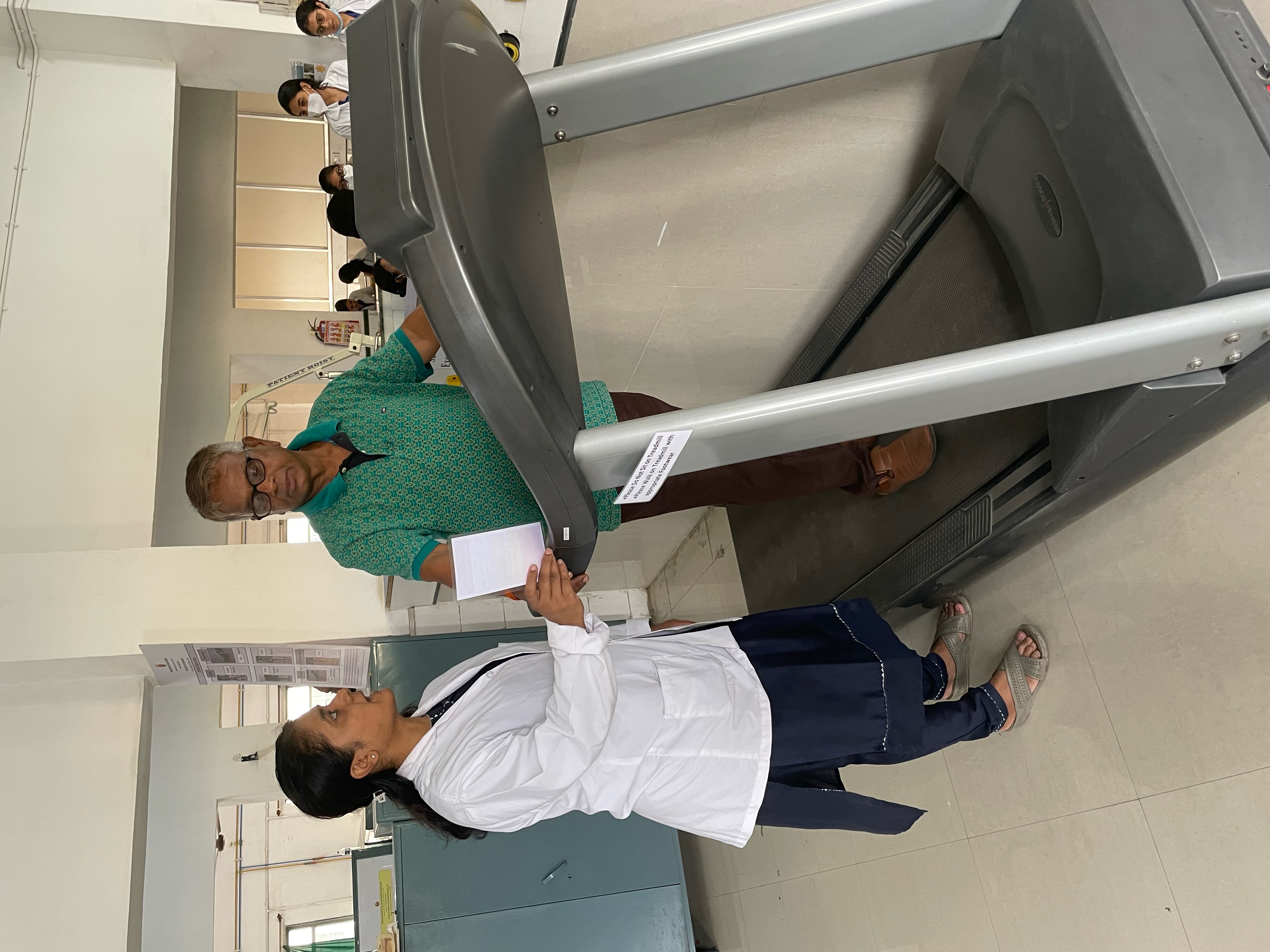 Cardiovascular disease (CVD) is one of the leading causes of death worldwide. Cardiac rehabilitation is a customized intervention for individual patients with various cardiovascular diseases such as ischemic heart disease, heart failure, and myocardial infarctions, or patients who have undergone cardiovascular interventions such as coronary angioplasty or coronary artery bypass grafting
Cardiac rehabilitation program aims to limit the psychological and physiological stresses of CVD, reduce the risk of mortality secondary to CVD, and improve cardiovascular function to help patients achieve their highest quality of life possible.
The duration of Cardiac Rehabilitation lasts for 3 months it consists of three phases. Phase I begins in the inpatient setting soon after a cardiovascular event or completion of the intervention. Once a patient is stable and cleared by cardiology, outpatient cardiac rehabilitation may begin. Phase II typically lasts three to six weeks though some may last up to twelve weeks. Phase III involves more independence and self-monitoring.
Cardiac rehabilitation programs offered at MGM School of Physiotherapy, Navi Mumbai focuses on:
Risk Factor assessment
Cardiovascular endurance assessment
Physical activity assessment and Training
Exercise Training
Who can enroll for cardiac rehabilitation:
Sedentary Lifestyle
Overweight
Diabetes
Hypertension
Stable Heart Failure
Stable Ischemic Heart Disease
Heart Surgery
Angioplasty
Patients with pacemaker
Operated Valvular diseases
Operated congenital heart disease
Heart transplant
Who cannot enroll in Cardiac rehabilitation: (Contraindications to cardiac rehabilitation only apply to the exercise aspect).
Unstable angina
Acute decompensated congestive heart failure
Complex ventricular arrhythmias
Severe pulmonary hypertension (right ventricular systolic pressure greater than 60 mm Hg)
Intracavitary thrombus
Recent thrombophlebitis with or without pulmonary embolism
Severe obstructive cardiomyopathies
Severe or symptomatic aortic stenosis
Uncontrolled inflammatory or infectious pathology
Any musculoskeletal condition that prevents adequate participation in exercise
Benefits
Overall cardiac rehabilitation increases the quality of life and decreases health care costs. Cardiac rehabilitation has many physiologic benefits due to its exercise component. Exercise training has been shown to increase maximal oxygen uptake (VO2max), improve endothelial function, and improve myocardial reserve flow. Additionally, cardiac rehabilitation can reduce smoking, body weight, serum lipids, and blood pressure.
Venue:
Room No.55, MGM School of Physiotherapy OPD 2nd Floor, MGM Medical College Building, MGM Institute of Health Sciences Navi Mumbai Contact: 022-27437968 Extension: 7968 OPD Timings: 9.00 am to 1.00 pm, 2.00 pm to 4.00pm