Department of Cardiovascular Pulmonary Physiotherapy & Fitness
Cardiovascular Pulmonary Physiotherapy & Fitness - Overview
---
The cardiopulmonary department of University Department of Physiotherapy has four faculty members. We are involved in the teaching training program of under graduate and post graduate students in guiding their research work. The main strength of our team is the dedication to development of cardiac rehabilitation, pulmonary rehabilitation and fitness programs well as acute respiratory care in the intensive care units.
The team is student friendly and we encourage students to exchange their thoughts and communicate their difficulties. We encourage them to have an evidence based approach to patient care and handling along with rational thinking and practical hands-on.
---
MGM Exercise Testing & Fitness Laboratory
---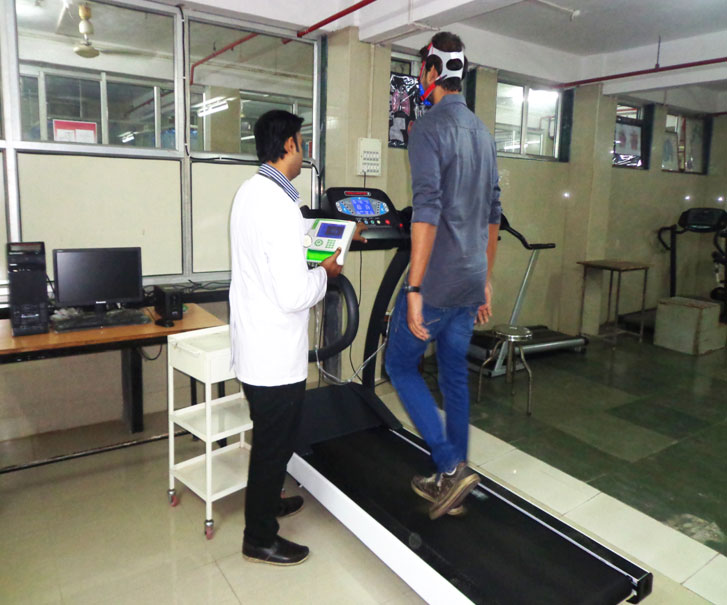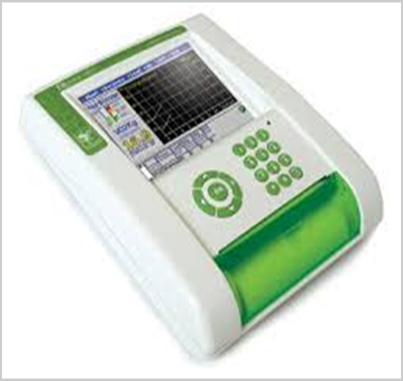 In the era of globalization, developing countries like India face major threats from the rising tide of lifestyle related disorders leading to non communicable diseases. According to WHO statistics for 2011, Non Communicable diseases (NCDs) including cardiovascular disease, cancer and diabetes account for 53% of all deaths in India.
Early recognition and evaluation of causative factors of NCDs becomes an urgent need of the hour. Modifiable risk factors such as dietary habits, physical activity levels, tobacco alcohol abuse and high stress levels precipitate the development of physiological risk factors like obesity, raised blood pressure, altered blood glucose profile and dyslipidemia ultimately lead to these diseases.
Physical inactivity is the fourth leading risk factor for global mortality and causes 6% of all deaths. Higher levels of physical activity can decrease incidence of NCDs by almost 25% thus potentially reducing the economic burden placed by them.
Physical activity is defined as any bodily movement produced by skeletal muscles that can result in energy expenditure. Fitness is the ability to perform daily tasks vigorously and alertly, with energy left over for enjoying leisure time activities and meeting emergency demands. Both are related but different concepts. Physical activity is a behavior whereas physical fitness is a biological trait.
The drop in physical activity is seen to be due to inaction during leisure time and sedentary behavior on the job and at home. Likewise, an increase in the use of "passive" modes of transportation also contributes to physical inactivity.
Benefits of regular physical activity of moderate intensity – such as walking, cycling, or doing sports – has significant benefits for health, at all ages. It helps to improve muscular and cardio respiratory fitness; bone and functional health; reduce the risk of hypertension, coronary heart disease, stroke, diabetes, breast and colon cancer and depression; reduces the risk of falls as well as hip or vertebral fractures; and are fundamental to energy balance and weight control.
By becoming more active throughout the day in relatively simple ways, people can easily achieve the recommended activity levels. Hence, at a population level, regular screening of physical activity and physical fitness levels using evidence based evaluation methods should be a public health priority. Early diagnosis and management for health care promotion need to be initiated at all strata of society.
Therefore keeping these objectives in mind, MGM Physiotherapy department has established a new MGM Exercise Testing and Fitness Laboratory to cater to health needs of the society. Physical activity levels are assessed using questionnaires. Health related fitness testing includes various components like anthropometric measurements, evaluation of flexibility, balance, muscle strength and endurance and cardiopulmonary endurance testing using state of art technology.
---
Cardiovascular Pulmonary Physiotherapy & Fitness- Clinical
---
The department of Cardiovascular Pulmonary Physiotherapy & Fitness provides valuable service to a wide spectrum of patients at all the three hospitals of MGM, Navi Mumbai. We cater to patients in the specialized Intensive Care Units viz. - Medical, Surgical, Neonatal, and Burns whereby our team of experts work on the chest care of artificially ventilated patients' right until the point that they are spontaneously breathing and well ambulated. We utilize techniques of bronchial hygiene, respiratory muscle retraining and strengthening, early mobilization and ambulation, optimal positioning and thoracic expansion exercises to get our patients up and about. In the Cardio thoracic Unit we treat patients with congenital heart diseases and ischemic heart disease and take them through the process of cardiac Rehabilitation with diligent care and stringent monitoring whereby we try to optimize and maximize their functional abilities.
Our therapists and students visit the patients in the General Medical and Surgical wards whereby Chest Physiotherapy is instituted to them. Pulmonary Rehabilitation has been initiated at the Chest Medicine wards for patients with pulmonary pathology. Pulmonary Rehabilitation is also being carried out at OPD level where we prescribe conditioning exercises to patients.
We have initiated pulmonary rehabilitation and fitness classes which include a thorough fitness testing followed by scientifically based exercise prescription to enhance a person's fitness level taking into consideration the various risk factors that the participant subject may have.
A 'Respiratory Support Group' has been started in conjunction with Department of Chest Medicine, MGM Hospital, Navi Mumbai, with an objective of providing ongoing support to patients with chronic respiratory dysfunction. Fun and activity filled informative sessions are arranged which include creating knowledge and awareness of respiratory dysfunction, importance of smoking cessation, importance of engagement in physical activity like moderate intensity aerobics, yoga, pranayama, games, motivation and psychological counseling, diet-nutritional advise and medications.
The Cardiopulmonary unit is actively involved in assessment of energy cost of activity in various ongoing interdisciplinary research projects.
---